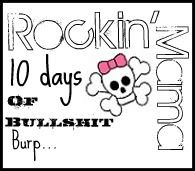 Ummm yeah – I am totally sucking at keeping on track with this challenge – but I got two words for ya – POTTY TRAINING.
Yeah we started training Skylar and it has had its highs and lows and seems to be ALL CONSUMMING…
But let's move along and catch up, shall we???


★Day 05- Finish this sentence. If I could change one thing about myself it would be___________.

Easy…
I would be self-employed as a photographer running a lucrative business where I only do the types of shoots that I want to do, everyone is happy, and I NEVER have to work weekends!

And to be honest -- the shallow side of me so wanted to say that I would be at my pre-preggo with Skylar weight and rockin' my old cute clothes again…

The thing is… I could do both if I REALLY set my mind to it. Makes me wonder why I cheat myself like I do?!?!?!


★Day 06- Who or what is your inspiration, and why?

I get inspiration from everywhere…

But especially from those I L♥VE the most because they make me constantly strive to better myself to be a better partner, Mother, and friend!