As I haven't participated in awhile and so obviously have pent up hate that I must vent…

I hate that summer is technically over – I know all you peeps like fall but ack – give me heat, flip flops, pool time, and BBQ's ANY day!

I hate people who always have it worse than you – you know the type – no matter what is going on they have to top out your misery? Really – is misery a competition now and I didn't know?
How stoooopid!

I hate buying school supplies. Seriously, I need a small loan to keep up with this stuff. $18.99 for a Trapper Keeper? Are you fucking high????

I hate bitches – wait I love bitches – but I hate bitchy bitches! The type that will burn your ass in a New York minute over petty nonsense like men, money, and such.
Women gotta unite – not stab each other in the back!

I hate pretzel M&M's because they taste so damn good with their amazing perfection of sweet and salty! I eat a whole ginormous bag in one night and can't even blame it on the kids!
*sigh*

I realllllllly hate when I am asked a question and the person who asks answers it for me before I have a chance to utter a word. Why ask me in the first place if you so obviously KNOW-IT-ALL? Grrrr… makes me wanna punch someone right in the kisser – in a nice way of course.
*wink*

I hate PMS – no amount of Wellbutrin, liquor or even pretzel M&M's eases this crap. I never was like this until I hit 40? Now I am a raging psycho -- in a nice way of course; NOT!

And finally... and this is a big one that will probably piss people off but I just have to say something.
I hate that people down South feel compelled to let those effected by Hurricane Irene know that it was *No Katrina*. Ummm yeah, we know that and I am pretty sure not one of us EVER compared the two. We know Katrina was a historic disaster in which hundreds of thousands of people's lives were forever changed or worse lost! I am from the Mississippi Gulf Coast so I personally know people who lost loved ones and everything they own. In comparison Irene was mild. But I am sorry, no matter who you are or what has happened to you – you have to have SOME compassion because Irene did devastate areas up here and people did die, lost their homes and belongings, and have been without power, running water, and food for a week now. Not too mention the douchebag scam artists posing as FEMA or insurance agents or the blatant assholes who are looting and stealing. No matter how you look at it – it's a bad, bad, BAD scene!

Hatred vented...
Wanna play along and get it off your chest?
Link up and rant along with us!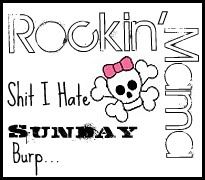 ♥cyn♥