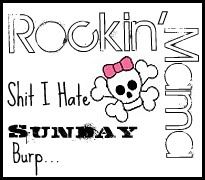 I am slackin – but you know I am dying to bitch – so here goes!

Shit I hate…

I hate people who bitch non-stop about work. Ummm its called *work* for a reason and if you hate it so much do something about it. I did and don't regret it one bit – well my bank account is wicked pissed at me – but what else is new?

I hate getting older. I realize I am not old… but I am getting older and I am noticing *stuff* -- fine wrinkles, gravity hitting and I am not talking about tits and ass – weird places I never thought gravity even had anything to do with. Oh and grey hair – and it blows. I wanna know how this happened because I don't feel a day over 34!

I hate girls who wear makeup and dress like hoochies at the gym. And I generally don't mind the hoochie look – as an ex-hoochie and all. But at the gym? Come on – that is just dumb!

I hate when people cannot take a joke – yes there are some things that just arent cool to joke about – but jeesh, life is too short to be pissed off at everything ALL the freakin' time!

I hate that I finally got twitter kinda figured out and now I am a twithead poking around on there all the time – like I got time for that shit?

I hate that I had a ton of shit I wanted to write about earlier and damn if I can remember any of it now.

And with that I end this – go link up or at least stalk this hot mama!

And when your done pervin' her – be sure to link up to my first evah blog hop no more muffin top weekend blog hop on my spanky new diet blog misadventures of a chunky goddess.




Peace out – oh wait, I hate when people say that.

♥cyn♥