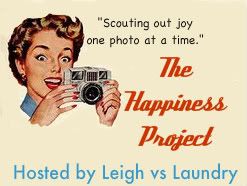 Something new...
Well for me at least!

The Happiness Project (click the cute button above) is a fun photography link-up hosted by Leigh at Leigh vs. Laundry -- a blog I follow and happen to adore.
Skylar dancing her little cute buns off at the library's toddler music program! She just loves music and dancing SO much and I LOVE watching her...
♥cyn♥